Products details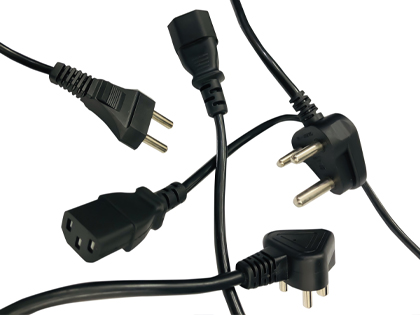 2 pin
3 pin 6A, 16 A
Computer Cords
We manufacture moulded Power Cords, as per BIS standards, for various applications such as home appliances, LED, Computers, Servers, Industrial use etc. Our products ensure quality and durability for rugged use, with focus on customer safety.
Offered in various lengths and specifications, ranging from 2pin 2.5A, 3pin 6A, 3pin 16A, for sockets as per IS:1293, and 0.5sq. mm up to 2.5sq.mm for cables as per IS: 694.
We also provide various computer sockets like C-5, C-13, C-14, C-15, C-19, C-20 & C-21, along with International plugs like EU, US, UK & Australian.
Keywords: Manufacturers of Mains Cord Pin in India. Mains Cords for various application, for home appliances, industrial application etc, 5 Amp to 15 amp as per customers requirements..